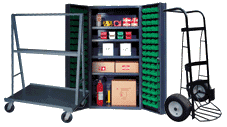 Company History
Warehouse Equipment Co. Inc. was founded in 1946 by Irving Entel in Brooklyn, New York. Initially, Warehouse Equipment manufactured a small line of platform trucks, dead skids, and specials to fulfill customers specific needs. During the 50's & 60's the manufacturing facilities were expanded to accommodate a new and broad line of department store equipment. In 1961 the name of the company was changed to Entel Manufacturing Corp., and for the next twenty years Entel developed a full line of stock trucks for the Home Improvement stores and Supermarkets.
Thanksgiving of 1983 was a major mile stone in the company's history with the acquisition of Ironbound Box & Lumber Co. of Hillside, NJ. Thus the new name Entel Ironbound was created and the present manufacturing facility at 500 Division Str. Perth Amboy, New Jersey was a reality.
Entel Ironbound of today, not only manufactures a broad line of equipment but also distributes equipment for many national brands. Todays management team is made up of second and third generation family members, and we continue to do business with a personal touch.
Entel Ironbound and Morse is one of the elite material handling manufacturers in the United States . For almost 60 years Entel has specialized in manufacturing heavy duty rolling equipment and storage products, along with specialty items to fit our customers' needs. At Entel our mission is to continue to provide our customers with top of the line, industrial strength, American made products that are built strong enough to stand the tests of time. We also pride ourselves on quality service, and customer relations. Entel is family owned and family run in order to insure the best service possible, after all it is our name that rolls out of here on every cart.
The Ironbound Division of Entel Ironbound and Morse specializes in the resale of a large variety of material handling products from some of the largest material handling manufacturers in the world. We like to think of ourselves as "the one stop shop for all your material handling needs." Ironbound sells everything from packaging items all the way to lockers, pallet racking, and mezzanines.
The Morse Metal Products
Division of Entel Ironbound and Morse manufactures an American made line of hand trucks, platform trucks, nursery trucks, and table and chair trucks as well. Morse specializes in producing products that are not only strong and durable enough for a warehouse, but that look nice enough to be on the sales floor. Most of the Morse line is also designed for easy shipping; most of the products can be boxed and shipped UPS. "Our ability to manufacture goes far beyond our featured items, and we pride ourselves in designing equipment to service your particular needs."